Invasive Species and Restoration
Ecosystem services associated with urban prairie restoration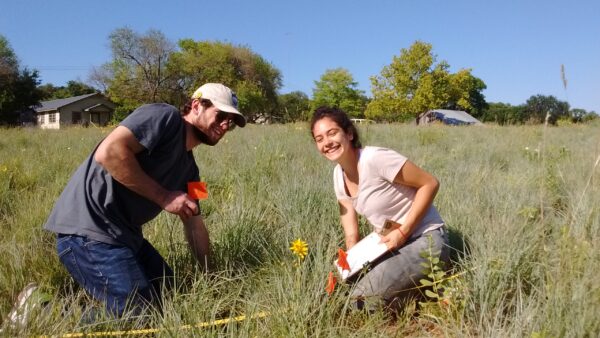 Urbanization and sprawl have led to dramatic losses in biodiversity due to habitat fragmentation and degradation. While green spaces within cities can act as refuges for remnant populations of native plant and wildlife species, their degraded state often leads to homogenization and low biodiversity. Opportunistic introduced species can colonize and spread in disturbed urban green spaces, displacing habitat for native flora and fauna and altering ecosystem functioning. As most US citizens live in urban environments (80.7% according to the most recent US Census), visiting urban green spaces may be their only option for connection with nature. Restoration of urban green spaces can serve to ameliorate some of these negative ecological impacts, while simultaneously increasing recreational and cultural opportunities for nearby residents. Quantifying the benefits of restoration in urban green spaces is important, because costs of treatments are often prohibitive.
Since 2017, I have been measuring plant diversity and ecosystem services of a restored prairie at Commons Ford Ranch Metropark with the help of many St. Edward's students. The site was dominated by a mix of invasive grasses including King Ranch bluestem, Johnsongrass, and crabgrass, until a large restoration effort occurred in 2011-12, which included prescribed fire, herbicides, and seeding >70 species of native Texas grassland plants. My work has focused on quantifying plant diversity responses and seeding success, whereas my students have looked at a range of different metrics. For their ENSP senior research projects, Aileen Brom, Shirley Ochoa, and Bowen Wilder measured insect diversity and abundance in the restored prairie compared to a nearby reference site (Fall '18), Abril Carranza measured social ecosystem services of the restoration (Fall '18), and Joscelyn Moncayo and Andrew Venzon measured differences in soil moisture and organic matter in the restored prairie and reference site (Fall '19). Students in the SCIE 1199 freshman research class have quantified abundance of pollinator-friendly plants (Stella Cunningham & Abigail Ramirez) and compared productivity (Vinh Tran) in the restored versus reference meadows. See the Commons Ford Prairie Restoration Organization's blog for more information about the treatments, and my Outreach page for summaries of our research results.
Invasive species control in the Great Basin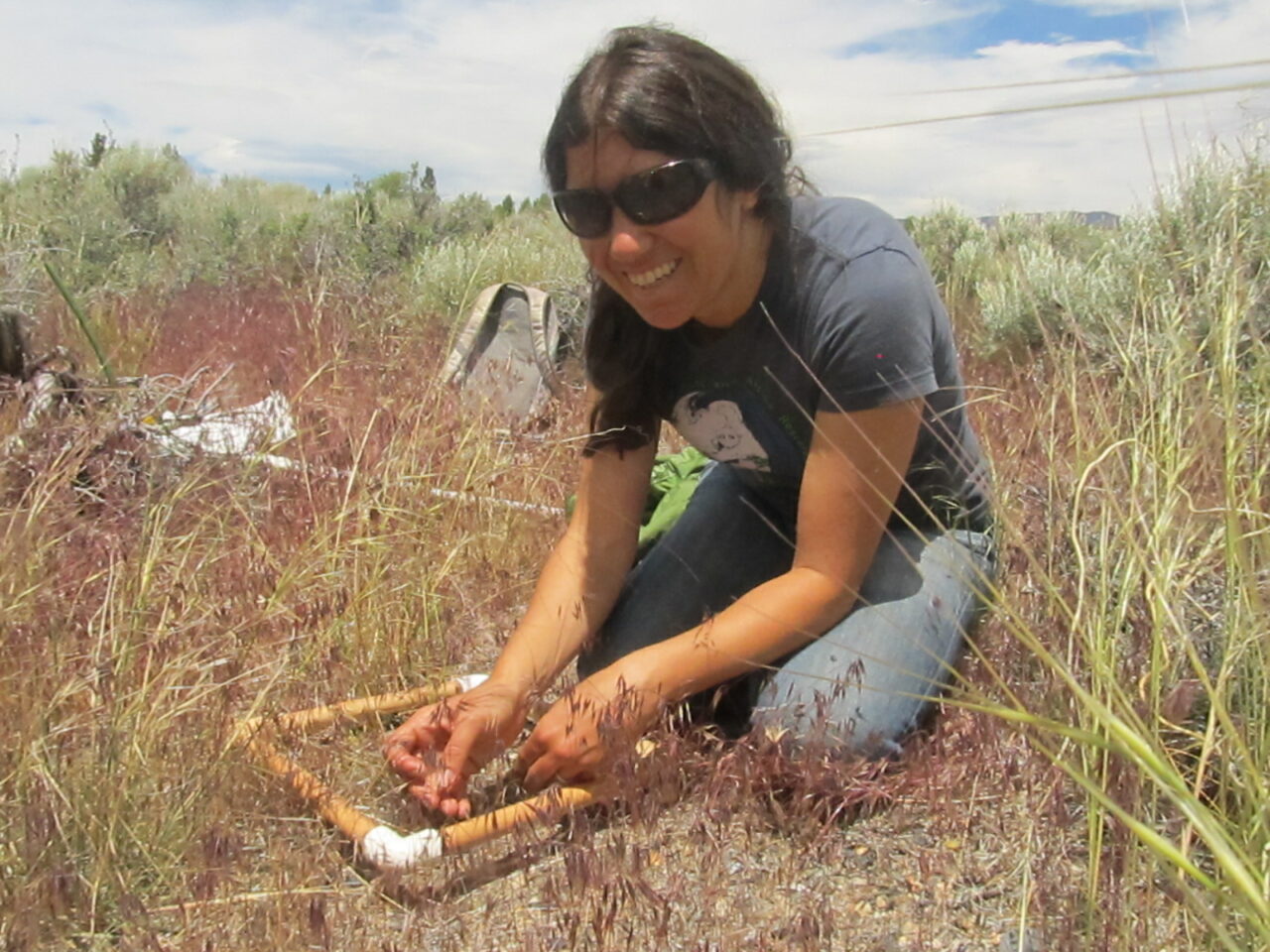 At the edge of many exotic plant invasions, outlier infestations exist that can facilitate spread by acting as seed sources to uninvaded sites. Targeting these patches for eradication while they are relatively small in size could significantly reduce the associated long-term costs and impacts of the invasion. My research has evaluated control techniques for eradicating outlier patches of the invasive annual grass Bromus tectorum in the eastern Sierra Nevada, CA, at the high elevation edge of the invasion. I compared both ecological effectiveness (through in-situ field experiments) and associated costs (by recording time, labor, and materials costs) of soil solarization, mulching, and hand pulling followed by seedball and broadcast seeding. Results from this study were published in Invasive Plant Science and Management.
The work described above primarily reported feasibility of control in terms of ecological effectiveness. In reality, invasive plant managers working on public lands have broader definitions of feasibility which might include logistical, social, economic, or regulatory considerations, among others. Interdisciplinary research is critical for developing effective invasive species management approaches.  I worked in close collaboration with an environmental law and policy analyst, Dr. Zdravka Tzankova (Vanderbilt University), to address these kinds of concerns using cheatgrass as a case study. We evaluated the feasibility of control of cheatgrass in eastern California from an interdisciplinary perspective. We conducted semi-structured interviews with public land managers and an in-depth analysis of relevant state and federal legislation and policy as well as agency management plans that affect invasive plant control. Our aim was to evaluate barriers and opportunities for cheatgrass control in the region, which could also be applied to widespread non-noxious invasive species more broadly. Indeed, we found that many of our results were not unique to cheatgrass, but apply more broadly to invasive plant control on public land. Our results were published in the journal Biological Invasions and made available to land managers in the region.  Most of my current work on invasive species control is in Central Texas, where I am using this same interdisciplinary approach to study control of KR bluestem and Johnsongrass.
Invasive plant impacts on soil chemistry and microbial communities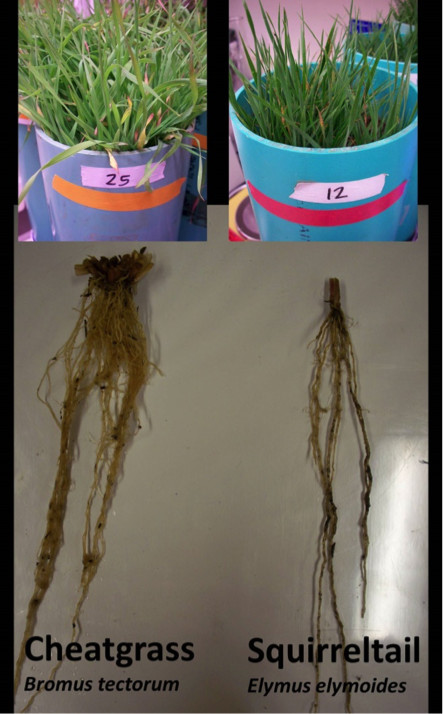 It is well-known that plants can affect soil chemistry and microbial communities. Some invasive plants can actually condition the soil to facilitate their own growth and spread (plant-soil feedback) and cause legacy effects that linger on even after they are removed, challenging restoration efforts. My research has evaluated impacts of the invasive annual grass, Bromus tectorum, on Great Basin soils focusing on rhizosphere priming, which is one mechanism by which plants can impact soil nutrients and function. In particular, the rhizosphere priming (RPE) can result in changes in rates of nitrogen mineralization, and it is well-known that invasive plants like cheatgrass respond positively to excess nitrogen. Cheatgrass is often associated with high nitrogen soils, and we hypothesized that this may be due to priming. Working with Drs. Weixin Cheng (University of California Santa Cruz) and Thiago Vargas (Universidade Federal do Paraná, Brazil), I conducted a greenhouse experiment to determine how Bromus tectorum affects soil nitrogen cycling in the presence of native bunchgrasses in invaded and uninvaded soils. We did not find evidence to support our hypothesis. We published this work in Plant and Soil in 2015.
Since I moved to central Texas, my attention has been focused on other invasive grasses, King Ranch bluestem (Bothriochloa ischaemum) and Johnson grass (Sorghum halepense). King Ranch bluestem is one of the most serious invasive species of central Texas, and is widespread in the Edwards Plateau. It was planted extensively throughout the southern US along roadsides and as a forage species, but has since spread into wildlands with negative impacts on native plants, birds, and small mammals.  Johnson grass originated in Eurasia and is now widespread in North America and considered one of the 10 worst weeds in the world. These grasses now dominate many of the grassland remnants in and around Austin, TX, and provide little in the way of food or habitat for native species. With Dr Terry Bilinski (University of Colorado- Boulder), a microbial ecologist, I am now investigating plant-microbe interactions and comparing microbial community composition and soil nutrients in  KR bluestem and Johnsongrass-invaded sites with those nearby dominated by native species at Spicewood Ranch in the Texas Hill Country. We are interested in whether and how these grasses may be conditioning the soil. If we find evidence for a plant-soil feedback, we will use a more mechanistic approach (e.g., greenhouse study) to determine whether these impacts are conferring an advantage to the invasive grasses over central Texas native species.
---
Global Change Research
Climate change impacts on ecosystems of the Texas Hill Country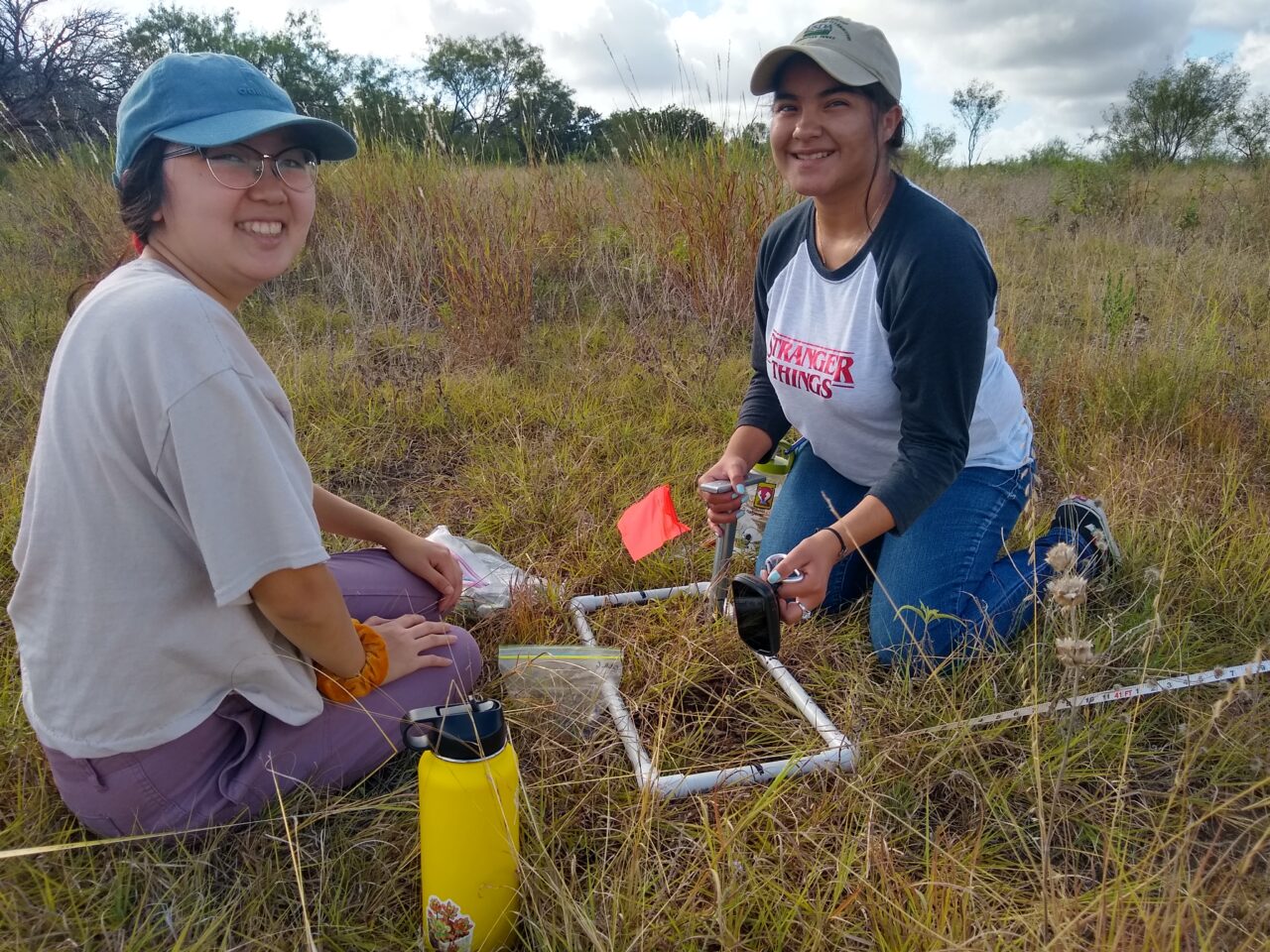 Spicewood Ranch is a 1250 acre ranch in Spicewood, TX, owned by Mr. Christopher Harte and managed for the purpose of conservation, restoration, and wildlife habitat. The ranch has been assembled through multiple purchases in a process Mr. Harte refers to as "de-fragmentation", by purchasing over 35 individual parcels of land adjacent to one another over decades beginning in 1972. Mr. Harte's late wife Kay, a landscape architect, set out to start restoring the land with the help of David Mahler, of Environmental Survey Consulting, almost 30 years ago. This restoration work continues today using prescribed fire, deer management, and the seeding and planting of native species. Mr. Harte was awarded the TPWD Lone Star Stewards Award in 2018 and the story of his ranch was featured in a short video, available here.
In 2018, I worked with Dr. Terry Bilinski, formerly of the Biology Department now at the University of Colorado, to set up an Ecolab Agreement between St. Edward's University and Mr. Harte which allows us to conduct research on his land with St. Edward's students. Our research questions are focused on climate change impacts on grasslands, plant-microbial interactions in response to invasive species, and how soil carbon sequestration varies by vegetation cover and land management history. In 2018-19, we collected background data to characterize the soils and plant communities across different parts of the ranch where we plan to deploy several long-term experiments. In Fall 2019, Yeji Kang and Olivia Rome, who are being co-advised by Dr. Bill Quinn in Biology, conducted their ENSP senior research on seedbank dynamics in response to prescribed fire at the site. Their preliminary results were presented at the 2019 TXSER conference. During the summer of 2020, we plant to set up a long-term drought experiment to determine how Texas grasslands respond to extreme prolonged drought and high temperatures, and whether restoration confers increased resiliency to climate change impacts.
Global change impacts on ecosystems in the Colorado Front Range and Eastern Sierra Nevada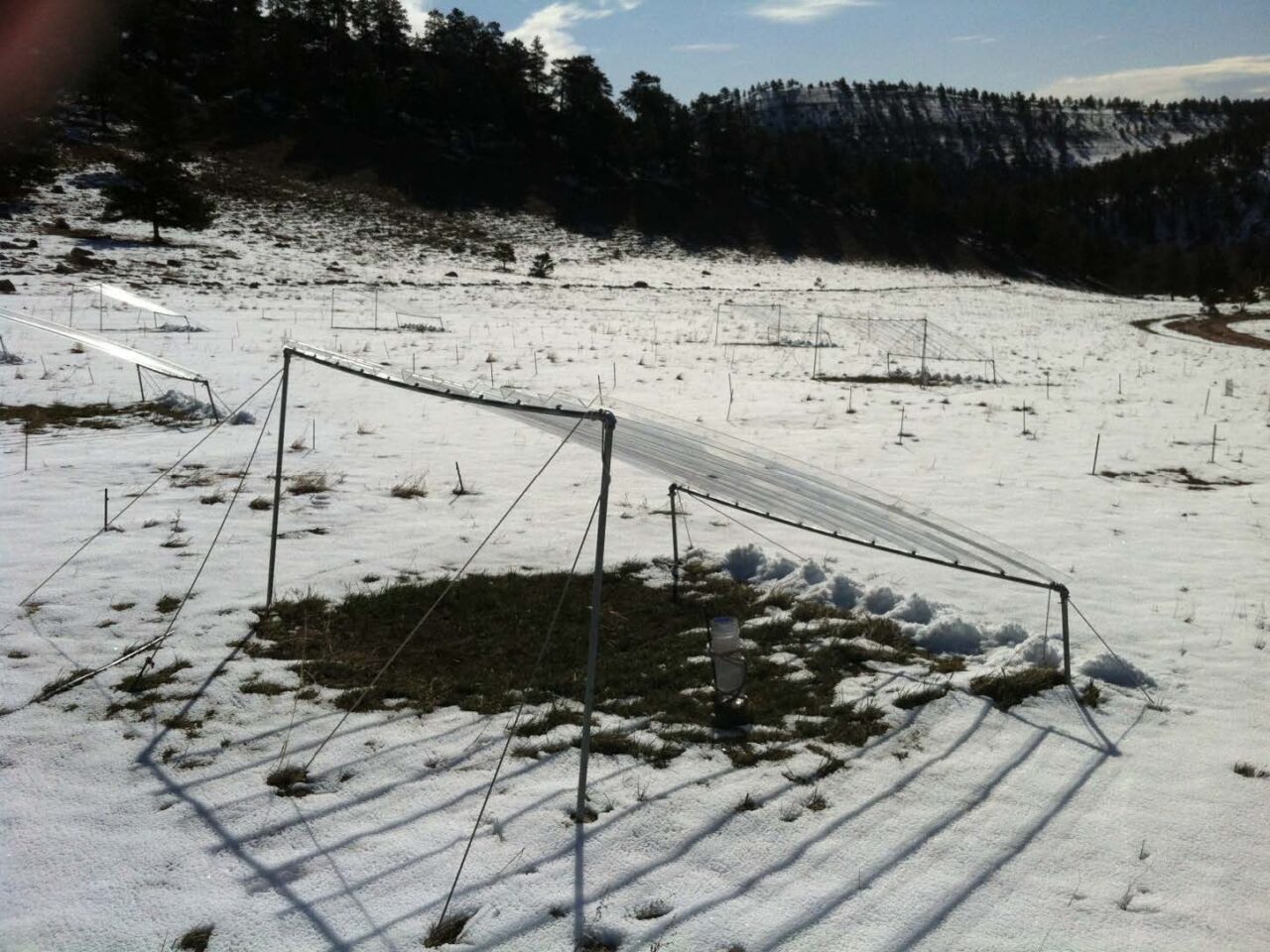 The invasive grass Bromus tectorum (cheatgrass, downy brome) has been called one of the worst invaders of the West for its role in transforming native sagebrush steppe ecosystems into invasive annual grasslands. It has become ubiquitous across the Great Basin Desert after displacing native plant communities and causing changes to the fire cycle. At the western edge of the Great Basin along the eastern escarpment of the Sierra Nevada range, B. tectorum is currently limited, most likely due to physiological constraints associated with cold winter temperatures and deep snowpack. However, predicted changes in climatic and edaphic conditions (due to climate change and anthropogenic nitrogen deposition) may facilitate upward range expansion.
For my dissertation research, I worked with Dr. Michael E. Loik (University of California Santa Cruz) to set up a series of manipulative experiments to determine how global change might affect the spread of B. tectorum in the eastern Sierra Nevada. We focused on changes in snowpack, spring rainfall, and increased anthropogenic nitrogen deposition. Results from this work were published in Global Change Biology and Applied Vegetation Science. With Dr. Alden Griffith (Wellesley College), we are continuing to monitor B. tectorum populations in response to natural interannual variations in snowpack and simulated increases and decreases in snow. The project has amassed 10 years of data. We anticipate that this long-term empirical dataset may provide new insight into how the interaction of temperature and snowfall affects B. tectorum population growth at high elevation.
From 2013-2015, I worked as a post-doctoral research associate with Drs. Timothy Seastedt (U Colorado- Boulder) and Jesse Nippert (Kansas State University) on global change impacts on plant communities in the Colorado Front Range and competitive relationships between the invasive grass Bromus tectorum and native grassland species. My main work focused on a relatively low elevation mixed-grass prairie that we found through manipulative experiments is experiencing shifts in vegetation (toward more invasives) due to changing precipitation patterns and increased nitrogen deposition. Our research results were published in Oecologia and Ecosphere. While in Colorado, I also worked on vegetation surveys at Niwot Ridge on an on-going NutNet experiment and we recently submitted a manuscript summarizing results from that project to Plant Ecology.