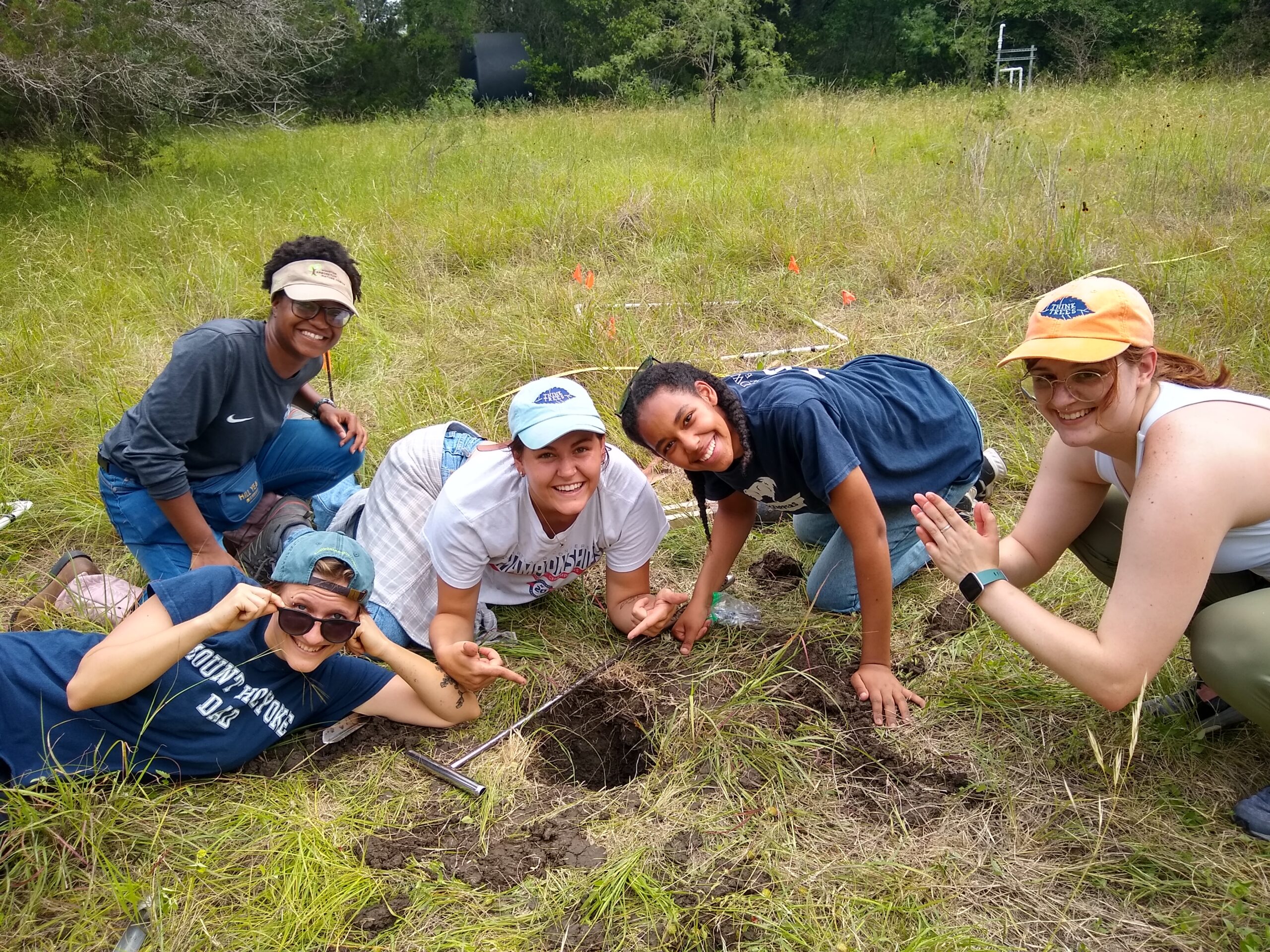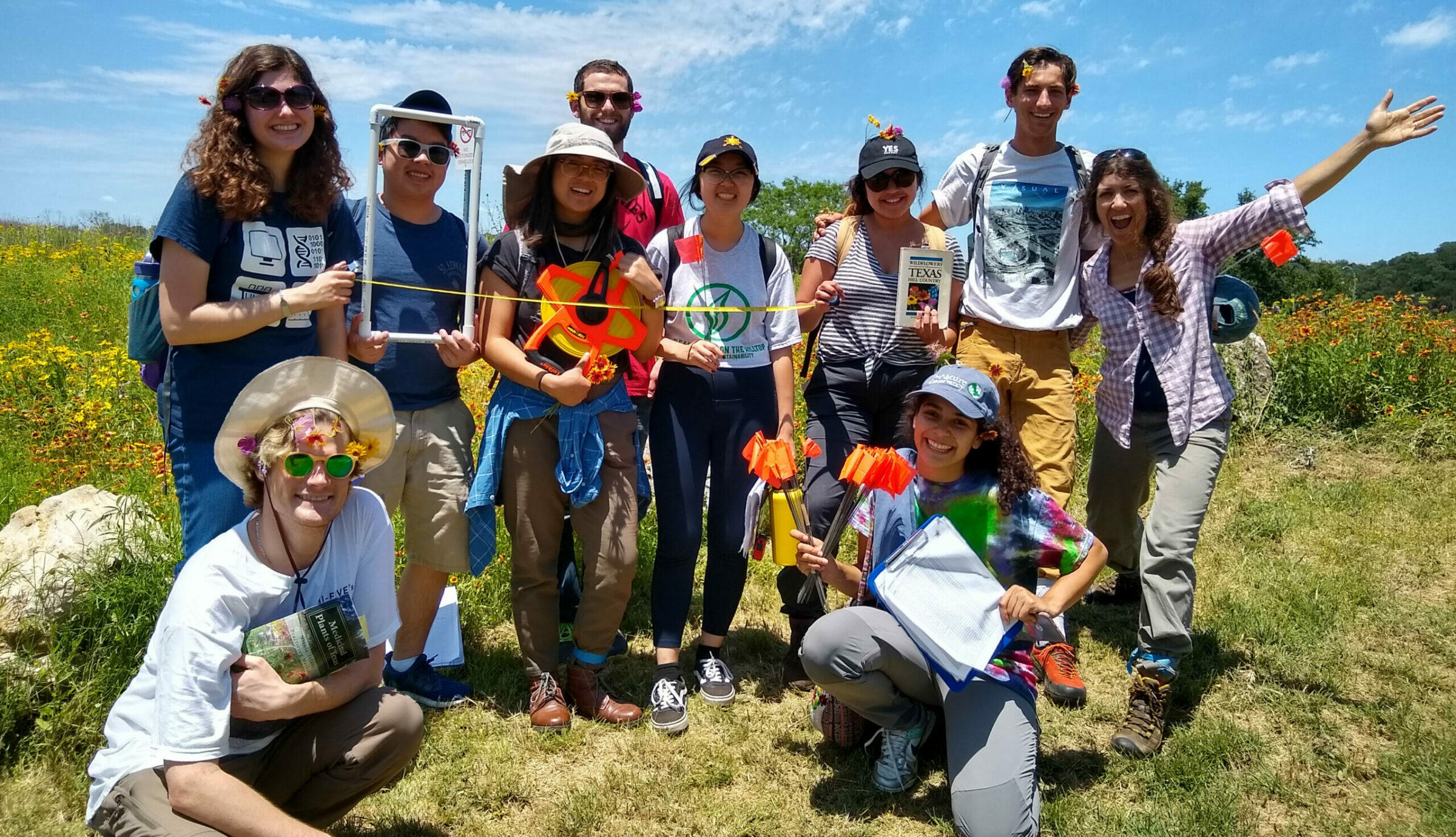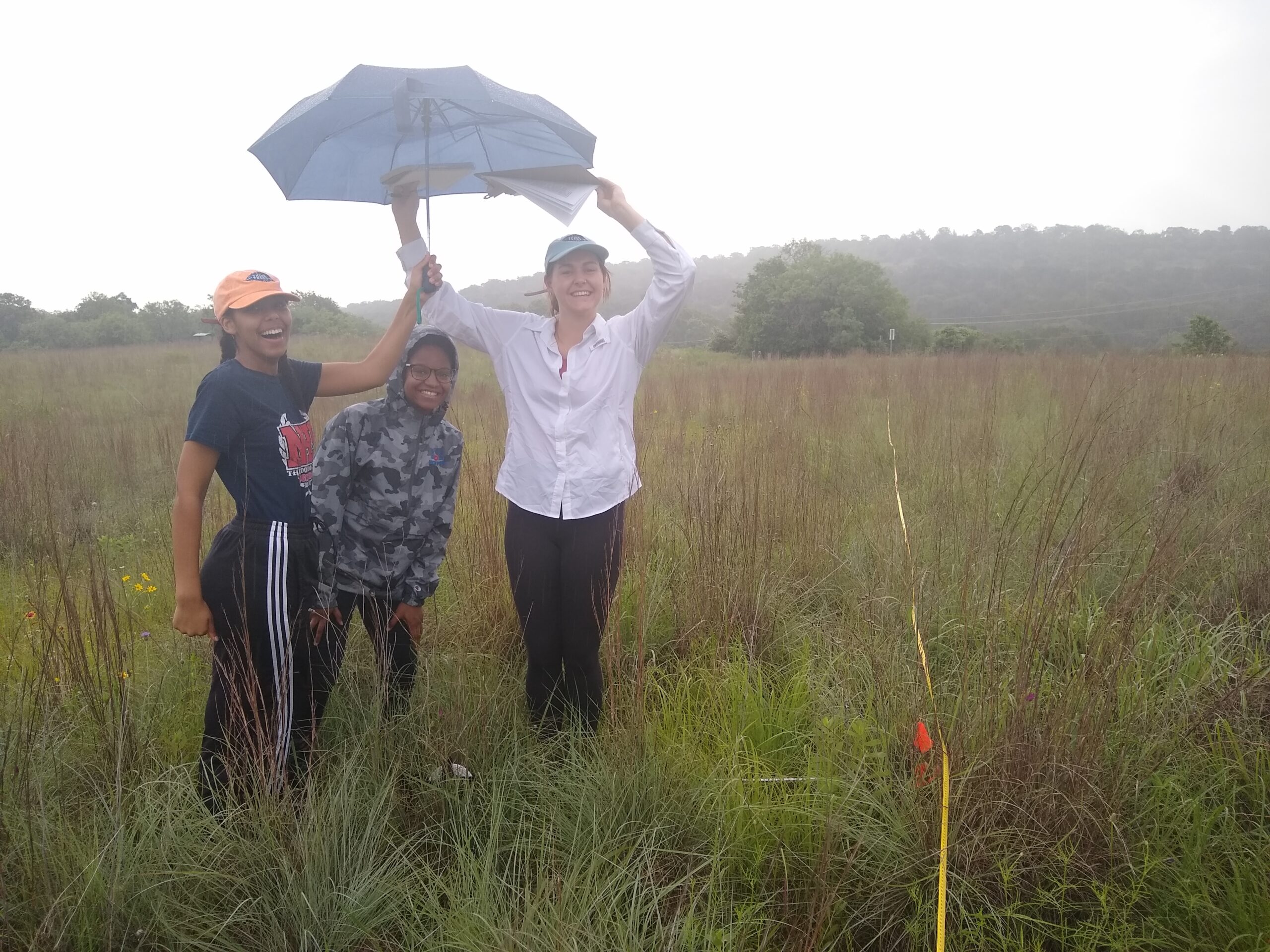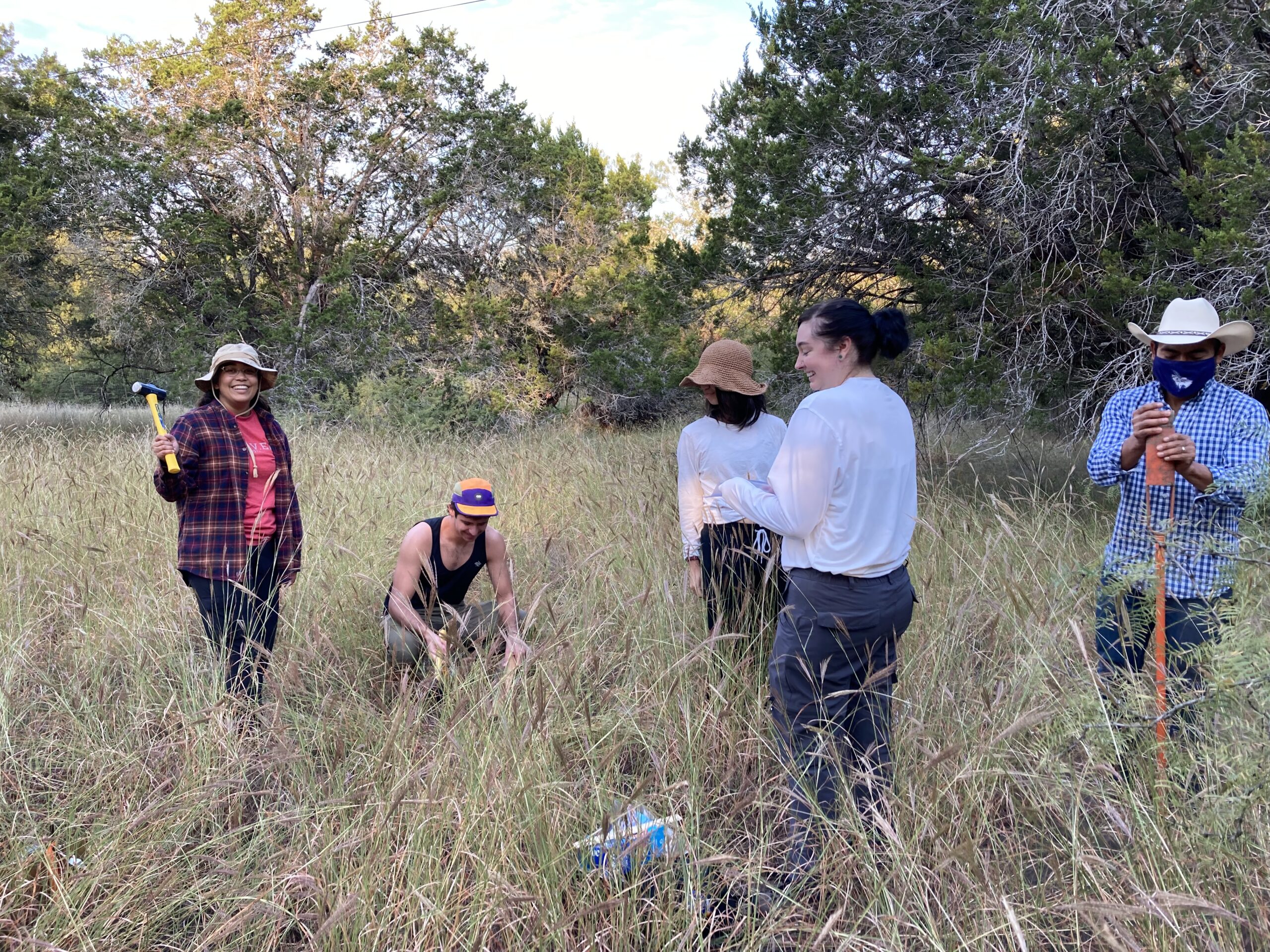 IMG_20210602_112331491_HDR
IMG_20190513_130142690_HDRb

Field research opportunities and research advising
Vegetation surveys at Commons Ford
The Commons Ford Prairie is a 40-acre tract located within the Commons Ford Ranch Metropolitan Park just west of Austin. In 2010, a group of birders, wildlife supporters and conservationists came together to design and implement a native prairie restoration plan. Prescribed fire, herbicide, and seeding treatments were conducted in 2011 and 2012, and since then volunteer groups have monitored vegetation and bird diversity annually.
I joined the effort in the spring of 2017 and since then have been working with a group of ~8-12 St. Edward's students every spring to conduct vegetation surveys over about 2 weeks in May. This is a fantastic opportunity to gain field experience in ecology, learn or strengthen plant identification skills, work on an established conservation project, and possibly use the site for your independent undergraduate research.
Please contact me at [email protected] if you would like to apply to join our awesome team!
Global change and land use change research at Spicewood Ranch
The Spicewood Ranch is a 1250 acre ranch in Spicewood, TX, owned by Mr. Christopher Harte and managed for the purpose of conservation and restoration of native Texas grasslands and woodlands for wildlife habitat. In 2018, I worked with Dr. Terry Bilinski to set up an Ecolab Agreement between St. Edward's University and Mr. Harte which allows us to conduct research on his land with St. Edward's students.
Our research questions are focused on climate change impacts on grasslands, plant-microbial interactions, and soil carbon sequestration. In 2018-19, we collected background data to characterize the soils and plant communities across different parts of the ranch where we plan to deploy several long-term experiments.
In 2019, Yeji Kang and Olivia Rome conducted their ENSP senior research on seedbank dynamics in response to prescribed fire at the site. In 2020, Logan Sigel and Natalie Turner researched carbon sequestration in native Ashe juniper-oak woodlands and compared that to invasive privet forests. This work is on-going. In 2021, we will be setting up a long-term drought experiment to determine how Texas grasslands respond to extreme prolonged drought and high temperatures, and whether restoration confers increased resiliency to climate change impacts.
Contact me at [email protected] if you are interested in working out at Spicewood Ranch as a research assistant and/or on your own independent research project.
Research at Wild Basin, Vireo Preserve, Blunn Creek, or the BCP
I have advised student research projects at Wild Basin, Vireo Preserve, Blunn Creek, and other Balcones Canyonlands Preserves (BCP). I encourage students who are interested in working on ecological research with me to choose a project at one of these sites that compliments on-going work.
Most of the research that we have done at these urban parks has focused on the invasive privet tree. This Asian tree was imported to the US as an ornamental and sold in nurseries, but it has spread into green spaces and wilderness areas, displacing native species. It has become a huge problem in many forested riparian areas in and around Austin.
Graduate students Savannah Bryson, Abigail Kroph, and Eric Johnson worked on strategies for removing privet and restoring native species at Wild Basin in 2016-2017. Undergraduate ENSP major Clarissa de Leon worked on her McNair research with me in 2018-2019 on mycorestoration of areas of Blunn Creek where privet had been recently removed to determine whether inoculating wood chips with turkey tail mushrooms would increase native plant establishment and regrowth. Following that, in 2019-20, undergraduate Jack Rippel worked with City of Austin biologists Jim and Lisa O'Donnell at Vireo Preserve to test whether placing inoculated privet logs in the forest increased soil fertility and function. In 2020, Colton Mitchel researched impacts of invasive privet on bird diversity, and Natalie Turner and Logan Sigel researched impacts of privet invasion on carbon storage of Central Texas woodlands. Natalie Cuellar measured invasive species abundance along transects running from the Wild Basin border to the interior to determine whether there was an edge effect, and if so, how far it extended into the preserve.
In addition to invasive species work, I am also involved in camera trap project monitoring wildlife populations across Austin (UWIN), and some student researchers have done projects related to that. Graduate student Elayna Grove used camera traps to determine whether wildlife were more diverse or abundant in native-dominated forests compared to privet forests in Austin.
Undergraduates Jon Brooks, Michael Gembarowski, Conlon McOsker and  Madison Tumicki worked on a project in Fall 2018 that took advantage of a fuels reduction treatment around the Wild Basin perimeter. They wanted to know whether the treatment would affect wildlife use or invasive species spread. They collected pre-treatment data in Sept/Oct and some preliminary post-treatment data soon after the treatments were applied in Nov/Dec. Andres Tagra and Anna Qualls continued this research by collecting follow-up data at the same sites in 2020. They are interested in understanding whether invasive species are facilitated by the disturbance created by the fuels treatments.
Students who work on research at Wild Basin or Vireo Preserve (or anywhere in the BCP) are eligible for a Hook Fellowship, which provides research funding and stipends for students conducting independent projects over the summer. I encourage my research advisees to apply for this great source of funding!
Contact me at [email protected] if you are interested in working with me on research at Wild Basin, Vireo Preserve, or Blunn Creek. You can also check Wild Basin's website for updates about internships and volunteer opportunities!
Interdisciplinary Scholars Program
The Interdisciplinary Scholars Program is a great way to get valuable research experience. As an ENSP major, you are already taking an interdisciplinary approach and this program lends itself nicely to studying environmental issues in more depth. Scholars choose three disciplines within BSS to focus on, take coursework in these areas, and then draw from these three disciplines to study some topic of interest to you in a culminating ISP research project.
You must apply for this program and meet certain eligibility requirements (see website for details). I am the ENSP representative on the ISP Committee, and Dr. Myhr is the program director. If you are interested, please check out the website and then schedule a meeting with me or Dr. Myhr to find out more about it.