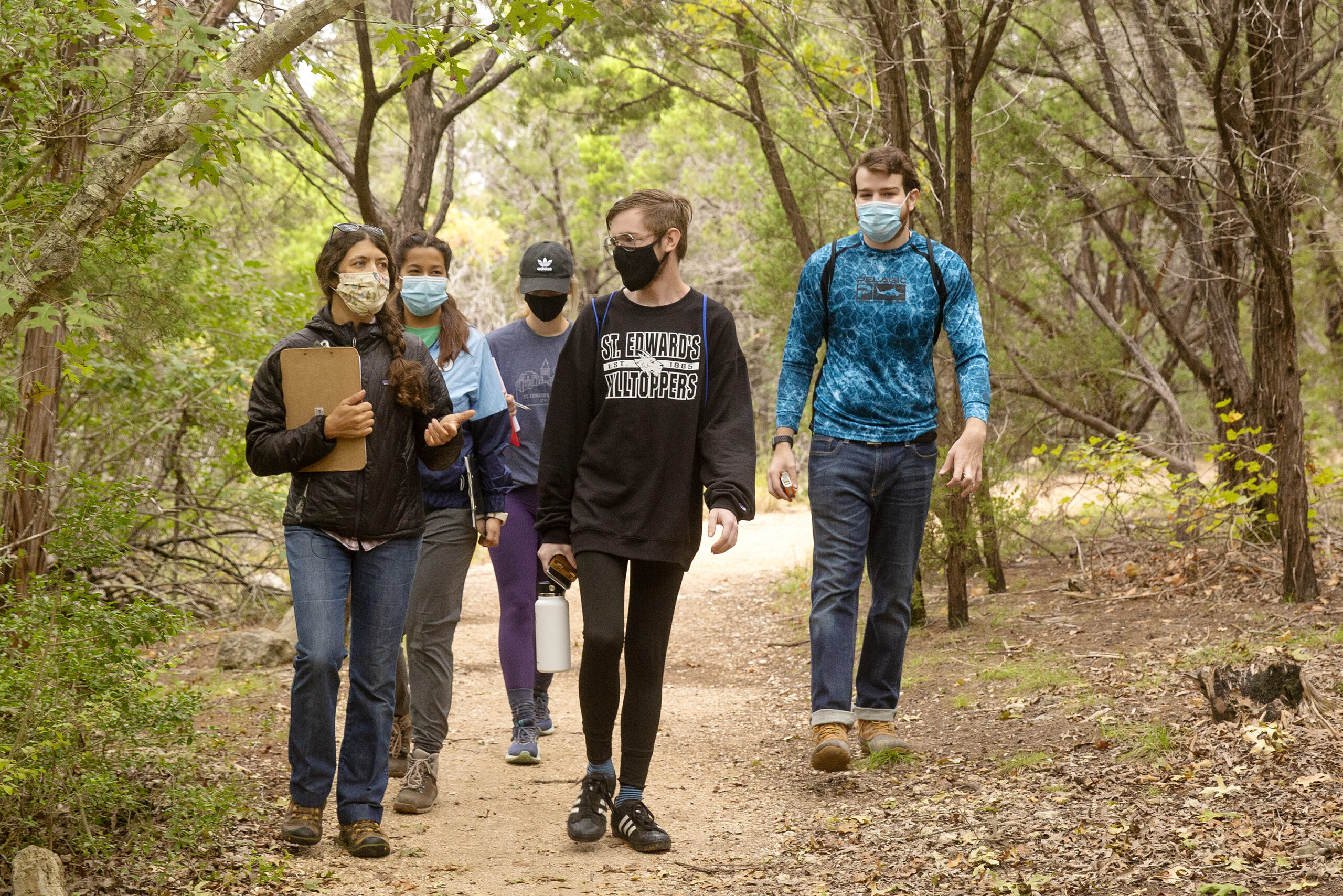 IMG_20191109_165727406_HDR
Advice on job and graduate school applications
My first tip for securing a job or getting into graduate school is to make sure you build strong relationships with people during your undergraduate training who will then be able to write you a strong and detailed letter of recommendation. In other words, get to know your professors and supervisors well! That means doing things like going to office hours, scheduling time to get together to talk about your career goals and ask for their advice, getting involved in their research or volunteer on their projects, and so forth. We are going to be able to give a much better reference for you if we have more contact with you.
Secondly, make sure to take advantage of the professional development resources on campus! Visit the Career and Professional Development Office and get help creating or updating your resume and writing cover letters. They can also help you identify jobs and internships to apply for. You should also talk to your professors about ideas for careers in their field, or anyone you meet who has a job that you might want! Ask them what kinds of classes they took that were helpful, what kinds of internships they did, whether they went to graduate school, and so forth.
Third, network! Take opportunities to get to know professionals in the environmental sector here in Austin, for example, Green Drinks or (n)ERD, Notorious Ecological Restoration Discussions (ask me about this if you are interested!). If you have the opportunity to go to a conference, go! You may meet a potential future boss or graduate school advisor. At the very least, it will give you experience with public speaking and add to your resume.
To secure almost any position after you graduate, you will need to have some experience in the field. While you are at SEU, take opportunities to gain as much experience as you can outside the classroom. Volunteer at Wild Basin, help your professors or friends with their field research, join a group on campus and become an active member or officer, or volunteer with Austin's Park and Rec Dept. To secure a full-time, permanent position in the environmental sector, you will likely have to work some seasonal positions or internships to gain more substantial experience. Below are lists of websites for finding jobs, internships, and graduate school positions.
Internships for gaining restoration, conservation, or environmental science experience
Job, internship, and graduate school postings
For local internships, check out the ENSP Internship blog to see what your peers have done and get ideas of where to apply.
Another good site to search for local postings is Austin EcoNet.
My favorite job search board for recent grads is the Texas A & M Dept of Wildlife & Fisheries job board. There, you can find positions around the US related to wildlife ecology and natural resources conservation and management.
A good one if you are interested in graduate school is the ESA Plant Physiological Ecology job board. There are sections for seasonal work, staff/technician work, and graduate school research assistantship opportunities. It does not matter if you are not interested in ecophysiology. Everyone posts to this site! Similarly, Ecolog is an email listserve that ecologists across the US use for posting grad school and research technician positions.
Finally, email Dr. Beck and get on his job email list! He sends out messages regularly and will continue to include you after you graduate if you request that he do so. Many ENSP students have told me that they found positions by reading Dr. Beck's emails!
Applying to graduate school in environmental science or ecology
If you are thinking of applying for graduate school in environmental science or ecology, come talk to me! There are many options- some are professional master's degrees that will prepare you for work in a nonprofit or federal or state agency. There are also professional certificates that you can get in less time for lower cost. For example, a GIS certificate would be very useful for working in the environmental sector. If you want to be a researcher, you should consider a PhD program and apply to work with a specific professor whose research you are inspired by. Most PhD programs offer teaching assistantships that cover your tuition and provide a meager salary, and some professors have grants that cover their students expenses through research assistantships. These are advertised on Ecolog and the ESA job board that I highlighted above.

Requests for letters of recommendation
If you would like to ask me for a letter of recommendation…
I get a lot of requests for letters of recommendation and it is difficult to keep track of whose letter needs to get sent when and where. I put together this list of things you can do to make sure I get your letter in on time and that it is best suited for the position/grant/etc. that you are applying to.
Please note that while I am usually happy to send a letter on behalf of anyone who has been in a class of mine or worked on research with me, I may not be the best person to do so. You should consider how well I know you and whether there is someone else who might be able to give a more in-depth analysis of your skills and characteristics that the employer is looking for. If I do not know you well and you still think I am the best person to write the letter, you should schedule a meeting to talk with me about the position, why you want it, and what makes you a good candidate. Scheduling a meeting to talk with me is probably wise even if I do know you well! It will help me write a better letter. Please review the list below for instructions on what I will need from you.
Please send me the following information (preferably in one email) as early as possible:
Any application materials you will be submitting
Your resume or CV
The title of the position or grant you are applying for
A link to the job announcement and/or highlighted list of all the desired skills and qualifications they are looking for
A bullet point list of what you want me to highlight in the letter
One week before the letter is due, please send:
A reminder email with clear instructions on where to send the letter, who to address it to, and any special instructions about how it should get there
Two days before the letter is due, please send me another reminder email if I have not indicated that it has been sent.
I will send you an email indicating that I have sent the letter after I do it. If you have not received an email from me, I did not send the letter and I probably need another reminder! Do not be shy.
General tips on asking for a letter of recommendation
When you ask for a letter of recommendation (not just from me, but anyone), you should do the following:
Give the person plenty of time to complete the recommendation – ask as far in advance as possible
Send summarized information on the position along with a link to the full posting
Send information about the organization/agency/department that you are applying to work with and why you want to work there
Send summarized information about what you would like them to write about – e.g., a bullet point list of skills or knowledge that you demonstrated while working with them
Send them the rest of your application materials – e.g., cover letter, resume
Send reminders leading up to the due date